We take responsibility
Castings play a crucial role in our day-to-day lives. Just think of the cast iron used in vehicles transporting goods from A to B. Or the cast iron in wind turbines generating renewable energy. Cast iron will remain inherently useful in the future, as it is a strong, durable and recyclable material. But cast iron production also has a negative impact on the planet's resources and contributes to climate change.
We need to handle this.

For us, sustainability is about balancing economic growth with corporate social responsibility and reducing our negative environmental impacts. We regard sustainability as an important driver in ensuring the future success of our business, long-term cooperation with our customers and the development of the societies in which we operate. For us, sustainable growth is both a responsibility and a requirement for our continued existence. This is not only the right path to take. Our customers expect it. Our employees of today and tomorrow expect it.

As one of Northern Europe's largest foundry group, we have a responsibility to work proactively to reduce the negative environmental impacts connected with our operations. Achieving this while also meeting our ambitious growth targets will be a challenge. But we are rising to this challenge.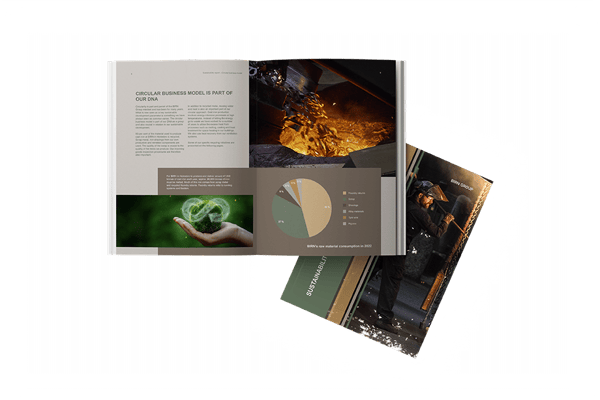 news
The Sustainability Report is thus another step towards a more sustainable business model for the entire Group.
Read more
Spåner
Circular mindset
The BIRN Group's business model is based on a circular economy mindset. For us, it has long been common sense to consider how we use and consume the planet's resources. We upcycle waste materials, recycle our own materials in closed circuits and develop products with a long life that can be reused indefinitely.



Afslagning
Reducing consumption
As a result of energy-intensive processes at high temperatures and large consumption of raw materials, the world's iron and steel production accounts for a large share of global emissions of greenhouse gases. As one of the largest foundry groups in Northern Europe, and thus an emitter of greenhouse gases, we are committed to continuing our work to reduce emissions connected with our operations and to share our results with stakeholders.
steel scrap in our cast iron
of sand used in core production is recycled
We stand together to balancing economic growth, social responsibility and reducing our negative environmental impacts.